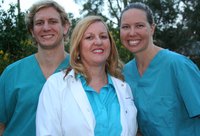 Physicians choose to practice in groups for good reasons. They share responsibilities for being on call, share staff, office and medical equipment and office space and share the risks of owning a small business. This is especially appealing for those who devoted their educational efforts to learning medicine rather than business. New physicians typically begin their careers by joining an established group, but some prefer to launch their own group, joining with trusted colleagues--or spouses--from their medical school or residency.
Things You'll Need
Medical license
Medical management consultant
Legal adviser
Accounting and tax adviser
Planning
Doctors will face hundreds of decisions when they form a medical group, including some that will have major financial consequences in the long term. Fortunately, there are medical management consultants who have vital business management expertise to guide the process. Select a consultant with a solid reputation for business acumen in the medical field and listen to his wisdom. He will shorten your learning curve and protect you from decisions you may regret a year or two down the line.
Plan the business start-up, allowing the consultant to guide you as you make decisions about the legal structure of the practice, preparing capital and operating budgets, selecting an office location, securing office and medical equipment, selecting medical management and electronic medical records software, securing financing, hiring and managing staff and promoting the practice. You will also make decisions together about getting credentialed to participate with insurance plans, securing hospital privileges, finding professional liability insurance and selecting an attorney and an accountant.
Allocate a significant commitment of time for meetings, research, interviews and decisions. It is ideal to have six months to plan the venture, but in some circumstances it can be accomplished in as little as two months. Getting credentialed with insurance companies is key, as they will lead to cash flow as you submit medical claims for reimbursement. Insurance companies often take months to clear the credentialing process.
Develop and sign legal documents with the guidance of the group's attorney that spell out the commitments you are making to each other. Typical documents will include articles of incorporation or partnership, corporate bylaws, a buy-sell agreement and either a compensation plan or employment contract for each physician, including both shareholders and employees.
Establish a starting date as the plans unfold. Build promotional efforts around the starting date that will include newspaper notices, exterior signage and scheduling an open house with medical colleagues and community leaders. Specialty physicians who will depend on referral sources should offer special invitations to potential referring physicians.
Manage the Practice Wisely
Managing the practice requires skills that go beyond planning. Assign duties for overseeing specific areas of the business to each shareholder. For example, one physician might take the role of treasurer, while another serves as the manager of human resources. If there are more than two in the new group, a third might focus on marketing functions like building referrals and solidifying relationships with insurance companies and local employers. Devote a regular time to meet as shareholders to refine operational decisions, understand financial reports from the accountant and to maintain clear communications.
Develop and refine a compensation structure that is fair, easy to understand and administer and that keeps each shareholder fully engaged in contributing to the success of the group. The medical management consultant can help in this important decision, while also preparing a monthly reporting format that allows each physician to monitor his individual financial performance, as well as the performance of the group.
Set aside time for a special planning meeting at least once per year to review the business performance, refine operational efficiencies, examine market changes and adopt goals for the coming year. Conditions change both inside the practice and in the community that will impact its operational efficiency and clinical effectiveness. Annual planning meetings provide an opportunity to make a disciplined and clear assessment to keep all shareholders satisfied and fulfilled.