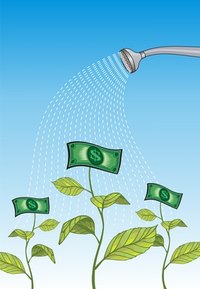 Coming into an inheritance is similar to winning the lottery or hitting the jackpot at a casino. It can be mind-numbing when you have to sit down and decide what to do with the money. Putting it in a bank would certainly be the safest option, but interest rates are low and you'd receive a poor return on your money. Real estate is another option, but the situation right now in 2010 is still very volatile and risky. One of the best options for investing inheritance money is the stock market, provided you approach it with due diligence and get professional investment advice.
Trading stocks requires that you open a trading account with a reputable investment broker. Keep in mind that how large the firm is doesn't indicate how good it is for your needs. Depending on the amount you're investing, you might be considered a small investor at a large firm and not get the attention and service you deserve.

Find a financial adviser. Don't try to go it alone, particularly if you're new to the stock market. Financial firms have financial advisers or financial planners that may be able to guide you. Many advisers specialize in certain areas, such as estate planning, retirement planning and portfolio management. When you determine what type of investment you're interested in, go to Finra.org, the website of the Financial Industry Regulatory Authority (see References), for a background check and profile of an adviser.
Start with the basics. Common stocks are popular investment options. Buying shares in a company offers you the opportunity to outpace inflation and substantially increase the value of your investment, provided the company is profitable and its stock price climbs.

Consider bonds. There are three types of bonds: municipal, government and corporate. Municipal bonds are fairly safe and are free of federal taxes, but they offer a low interest rate. Government bonds are the safest, but they pay a low interest rate and the earnings are subject to federal tax. Corporate bonds are the riskiest, depending on the financial health of the company, but they usually pay the highest interest rate.
Look into mutual funds. A mutual fund is a professionally managed investment pool in which a number of investors place their money to invest in stocks, bonds and other securities. Choose a mutual fund that has a history of good, stable performance as tracked by services like Morningstar (see Resource).

Check out sector funds, which are a type of mutual fund that invests in a particular sector, such as energy, transportation or health care. Or consider index funds, which invest in a stock index like the S&P 500. Investing in index funds is a form of passive investing since there is no active management, and it is the most inexpensive form of mutual fund investing in terms of costs.
Use caution when considering options, commodities and currency trading. These are very complicated and volatile investments that are not for the average investor. Always consult a financial adviser before you consider any of these.