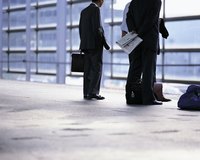 With very few exceptions, most business are built upon the strength of their client and customer relationships. This is especially true in the service sector where business owners may not have the luxury of having a visible storefront or widespread name recognition. Maintaining strong client relationships will enable your business to garner repeat business from current clients while benefiting from any referrals or recommendations that may be provided by satisfied clientele.
Learn your client's business and ask how you can meet their needs. A client won't stick around long if they feel that you do not have a vested interest in their business or the ability to help them solve their problems. Make an effort to meet with your clients regularly to discuss new developments and challenges that they are facing.
Ask for feedback from your clients. Regularly inquire with your clients to ensure that you are meeting their needs and expectations. If you are doing a mediocre job, most clients won't complain or call you out on it. However, doing a mediocre job won't earn you repeat business, referrals or recommendations. Asking your clients for feedback will allow you adjust your actions at any point during your relationship to deliver exceptional service that will build a long lasting and profitable relationship with your clients.
Remain visible and in the forefront of your client's mind. Send monthly newsletters or email updates to keep your clients apprised of the new services, programs or products that you provide. Send Christmas cards to let your clients know that you were thinking about them during the busy holiday season. Place a call once a month or so to ask how the client's business is going and if there is anyway that you might be able to help. By keeping yourself in the forefront of the client's mind, you will develop a strong professional relationship and ensure that the next time your client is in need of the services that you provide, they will come to you. One caveat to this tactic is to not overburden or smother your clients with unwanted information. A monthly newsletter, email or telephone call is reasonable. Daily or even weekly contact is not.