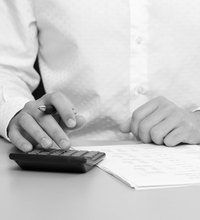 Investors always want to know how well their investments are performing. Calculating the earnings on your individual retirement account (IRA) is as simple as looking at the difference between what you contributed and the existing value. However, investors concerned with removing excess contributions from IRA accounts will need to establish the amount the excess contribution has earned while in account. The IRS penalizes excess contributions with a 6 percent tax compounded annually for every year that the excess remains in the account.
Things You'll Need
Form 5498
Current IRA statement
Pencil
Read Form 5498, which is sent by the IRA custodian to you and records with the amount you contributed into the IRA. IRS regulations as of 2010 allow contributions up to $5,000 of earned income, or $6,000 if you are over the age of 50. Anything above these limits is an excess contribution.
Write down the amount of the excess contribution. For this example, assume that you contributed an excess $1,000.
Calculate the percentage of your over contribution: $1,000 / $5,000 = .20. This is a 20 percent over contribution.
Call the IRA custodian on the number located on the statement and find out the value of the IRA the day prior to the contribution and the most recent value. Write these values down. Assume the IRA value was $10,000 the day before the new, over contribution and that the most recent value is $16,120.
Subtract the first value from the exiting value: $16,120 - $10,000 = $6,120.
Subtract the contribution made during this period from the difference in values: $6,120 - $6,000 = $120. This is the total earnings for the period.
Multiply the over contribution percentage with the total earnings for the period to find out the percentage of earnings attributed to the over contribution: 20% x $120 = $24. Your over contribution earnings is $24 and needs to be removed with the over contribution.