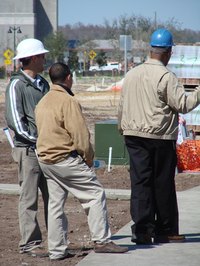 If you are considering career advancement, it is important for you to learn how to develop supervisory skills. Get prepared to accept additional responsibilities and relish the opportunity to grow professionally. Basic supervisory skills include good communication, consistency, motivation of employees and time management.
Process
Enroll at a local college offering training courses in supervisory skills development to help you learn the fundamental skills and concepts needed to become a better supervisor.
Attend seminars. Several organizations such as the American Management Association offers such seminars for professionals who wish to develop supervisory skills.

Invest in business-related motivational books written by professionals. Most of these books will advise you on basic techniques to develop supervisory skills.
Learn from supervisors in your organization. Choose a mentor with a proven track record of effective supervision.
Manage staff performance. Ask for written status reports on a weekly or semimonthly basis from your employees. Monitor and understand the duties of staff under your supervision. Follow up on projects and talk to the employee about how to improve his performance.
Hold staff meetings consistently. Use agendas and make sure that minutes are recorded. This allows employees to provide an overview of activities they are working on and helps you to develop team building skills.

Improve your communication skills. Conduct staff meetings professionally, draft business e-mails well and always try to speak to the employees directly. Create a common form of communication that is effective and everyone is comfortable using.
Understand the fine details of a situation instead of working with general conceptualizations. Research the background of each situation and base your decisions on thoroughly researched information.