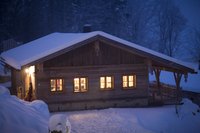 Many vacationers seeking escape from city stress and bustle seek out log cabin rentals, which provide structural beauty as well as a pleasing isolation. Log cabins have caught a wave of leisure-time customers who appreciate the outdoors, while roughing it as comfortably as possible. Owners can enhance the value of their properties by ensuring they are safe, comfortable and accessible.
Properties and Listings
Acquire your rentals through purchase or through planned construction. Research local recreational opportunities such as parks, ski resorts and waterways, which will enhance your rentals' value. Ensure your properties are zoned for rental and that you have all required business licenses and permits. As an alternative, find cabin owners who are willing to list their dwellings as rentals through your website and/or physical office handling reservations.
Setting Up
Furnish your log cabin properties for vacation renters. The amenities will depend on the season and the location; if your cabins have a lake or river view, for example, you can provide canoes and other small watercraft. In northern climes with a heavy snow season, offer snowshoes, cross-country skis and/or a snowmobile. Log cabins don't need to be uncomfortable: Provide hair dryers, coffee makers, cable TV, trash can liners, kitchen utensils and emergency supplies. Maintain any gardens, sidewalks and lawns and arrange for regular housecleaning services.
The Risk of Fire
Fireproof your property. Log cabins are made of flammable materials and you need to take every possible precaution against destruction of your property, especially if it's in a drought-prone area. Install hard-wired smoke and carbon monoxide alarms and a fire extinguisher; install a fire barrier between the logs and the interior. Ensure the grounds are kept free of twigs, leaves and other flammable clutter, and keep tree branches away from the roof and sides of the home. Don't allow smoking in your cabin, and make sure any chimneys are regularly inspected. Provide instructions for operating the fireplace. Not only do these measures ensure the safety of your guests, they will also help to keep your insurance rates down.
De-Bugging
Inspect regularly for termites and other wood-boring insects, as well as any degradation of the logs through weather, water and time. Natural wood logs are subject to a wide variety of pests that can wreak havoc on a structure's integrity. To this end, consider using EverLogs or some other artificial material if you're building your rentals or hiring a contractor for remodeling work. These are made of concrete and other components that prevent any problems with wood rot or mold, or attacks by insects.
Getting Word Out
Market your rental properties with listings on websites geared to the vacationer. There are several major sites, such as VacationHomeRental.com that specialize in vacation rentals, and allow visitors to browse using search terms such as "log cabins." Alternatively, set up your own website with photographs, descriptions, availability, special offers, and a reservation and payment form. Accurately describe the comfort conditions of your log cabins -- not everyone wants to rough it on vacation. Build an e-mail list from site visitors to keep in touch with current and potential guests.