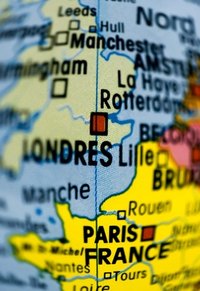 When heading out on an exciting backpacking trip from London to Paris, rest assured that you'll have several convenient options of transport to choose when crossing the English Channel. And if you're looking for the most budget-friendly route to Paris, then taking the Euroline bus is the cheapest way to go. Bus fares start at around 15 pounds, or under $30, which is certainly much less than you'll spend on a flight or Eurostar train ticket, which can run you $100 and up for one-way fares.
Things You'll Need
Hand-carry bag or luggage (depending on your length of stay in Paris)
Cash and/or credit cards
Passport (if you are a Non-EU citizen)
Identity Card (if you are an EU citizen)
Map of Paris, France
Guide book or information about Paris
French phrase book (if you're not familiar with the language)
Reading material, listening device, or laptop (for the 9 to 10 hour long bus trip)
Bottled drinks and snacks during the trip
Traveling from London to Paris
Book your bus ticket in advance by visiting the Eurolines website, specify your destination as Paris, your departing date and journey type--whether one-way, round trip or open dated return. Or you can call Eurolines at 08717 818181 between 8 a.m. and 8 p.m. and handle booking transactions over the phone. Rates will vary depending on journey type.
Bring all necessary belongings for your trip, including anything you may need during the nine- to 10-hour bus ride, such as snacks and reading material.
Go to the Victoria Coach Station in London for departure to Paris.
Arrive at the Eurolines Coach Station in Paris, which is located above the Gallieni Metro Station. Make sure to keep your touring information and phrase book with you to ensure a smooth trip in Paris.