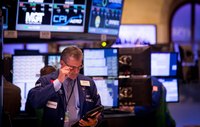 Buying shares of a trending stock and riding that trend to profits is often an easier and more successful trading strategy than trying to time share price reversals to pick bottoms and tops. The challenge with a trend-riding strategy is to find stocks with attractive trending price charts out of the 3,000 plus stocks trading on the stock exchange. Strategies to find trending stocks range from simple to elaborate, depending on how much time, effort and money you want to put into your trading.
Using Technical Indicators
The first step in finding and trading trending stocks is to know one when you see one; for that, you need to develop a selection of indicators that you understand. The trading community has developed a wide range of stock chart technical indicators that can help you visualize trends and determine the strength or weakness of the share price movement. Basic indicators include trend lines you place on a chart and moving averages, which are widely published and used. Find more advanced trend indicators with online stock chart services, among your brokerage account online tools or included with third-party trading software.
Daily New Highs and Lows Are Widely Available
Every day and at the end of the week, the stock exchanges publish lists of stocks that hit new 52-week highs or lows during the specified period. Hitting a new high -- or a low if you sell stocks short -- is a strong clue that a stock price is in a trend. You can apply your selected technical indicators to this small list of trending stocks.
Develop a Screening System
A stock screening tool can be set up to find stocks that meet trending criteria related to a selected series of technical indicators. Free online and broker-provided screeners include technicals as part of the criteria package. The most useful for finding trending stocks are those screeners that include built-in pattern-finding criteria. With a technicals-focused screener, try different types of patterns or moving average criteria to see what stocks show up. Then you can review individual stocks for trend-trading potential.
Follow the Crowd
Social media outlets let you search for trending stocks using crowd-sourced information. Many investors supply their personal stock market picks and outlooks to social media sites and investment websites that include a social component. Some online brokerage firms also provide in-house, crowd-sourced investing and trading information. A March 2014 "Wall Street Journal" article reported that an academic study by several universities showed that crowd-sourced stock opinions produced better results than Wall Street analysts and the mainstream financial news sources.