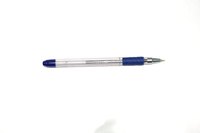 Chewing on pens is a common, but unsanitary, habit. Anything you or others touch can be a haven for bacteria. The moment you put the pen into your mouth, you introduce the bacteria directly into your body. Like just about any habit, this bad habit can be broken. You must be vigilant in your attempts, however, and really want to stop.
Things You'll Need
Lemon juice or bitter nail varnish
Tape
Textured fabric
Raw vegetables
Keep all pens out of your reach, except for those you must have to write with at that moment. Limiting your access to pens means fewer chances to chew on a pen.
Coat one area of the pen, the area you usually chew on, with a safe but bitter substance. You can use lemon juice or a commercial agent (the kind used to put on fingernails to deter fingernail biting). The taste will trigger you to realize what you are doing. Chewing a pen can become such a habit that you won't even realize consciously you are doing it--a bitter substance will jar you into realization.
Place tape around the end you usually chew on. You can also attach fake fur or similar material. If the bitter sprays didn't work, then this should help you. Each time you try to chew the pen, you will encounter the unpleasant tape or material.
Keep low calorie vegetables, such as celery sticks or carrots, on hand. Instead of reaching for a pen to chew on, grab one of these. These provide nutrition and will make the habit easier to break. According to articles.latimes.com, substituting any habit for a healthier one, rather than leaving an empty space where the old habit used to be, can help.