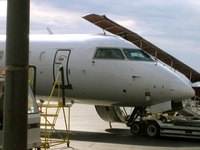 A common misconception about airline reservations is that once the reservation is made, it's set in stone. Unfortunately, this isn't always the case. Problems such as weather delays, problems with the aircraft, or just general incompetence can seriously change or cause problems with an airline reservation. It is important that you keep on top of your reservation in case things go wrong.
Things You'll Need
Check your airline's website for the reservation status. Most airlines have a "Check Reservation" icon you can click on, then enter information about your flight, such as your name and its number. This will give you up-to-date information on the airline's current status.
Contact the airline by phone. If the airline you are using doesn't have a website, or you can't access the Internet where you are, you can call its number and have a representative tell you the current status of the flight or reservation.
Check with the website you booked your flight with if you booked your flight on a site such as Expedia, Orbitz or Travelocity. You can see if anything has changed with your reservation by clicking on your Itinerary.
Ask the ticket agent at the ticketing booth about your reservation. Note that this should only be done as a final check after following the other three steps.