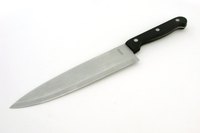 Knives are very useful tools in the kitchen and outdoors. Occasionally, however, accidents may occur that lead to injuries. Knife cuts tend to be smooth (not jagged) and shallow, but can still be serious and should be attended to immediately to ensure that the injury is treated properly. Simple home treatment can help to make sure that the wound does not become infected and that the injured party does not suffer unnecessary blood loss.
Things You'll Need
Washcloth
Antibacterial ointment or solution
Adhesive bandages
Sterile gauze pad
Wrapping gauze
Dampen a washcloth and clean the wound area lightly, carefully wiping away any large contaminants such as dirt or food. Observe the wound to see if it is bleeding continuously. Also try to observe the depth of the wound and evaluate if there is any numbness or an inability to move the wounded area. If the wound is deep enough to expose flesh under the skin or is numb, it is best to visit a hospital immediately after controlling the bleeding.
Apply the antibacterial ointment or solution to the wound area. Rub it gently into the wound.
Apply an adhesive bandage to the wound if it is not bleeding profusely and is small and shallow. The bandage will keep foreign materials out of the wound as it heals. If the wound is larger or somewhat deep, place a sterile gauze pad over the wound and wrap it with gauze somewhat firmly. Do not wrap it too tightly though, as this could cut off blood flow.
Change the gauze regularly, at least every four hours, as it absorbs blood. Monitor the wound closely as it heals. If pain persists or a large amount of pus forms, see a physician.