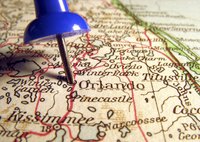 Whether you're visiting Walt Disney World or Disneyland, you'll have plenty of hotel choices at your disposal. Once you've booked and need to check your reservation, the process is simple through the online portal My Disney Experience.
My Disney Experience
The simplest way to view your existing hotel reservation is by logging into My Disney Experience and visiting the My Reservations page. Sign in using your email address or user name and password. If you haven't yet registered with the site, you can do so in a couple of minutes by providing basic contact information and security questions and answers.
Other Options
If the reservation isn't listed there, you may need to link it to your account on My Disney Experience. If you made your reservation on the phone, type in the confirmation number and your phone number so the reservation will show up on the My Reservations page for future reference. You can also call 407-939-4357 for assistance.