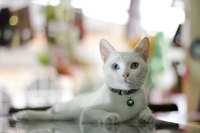 If your cat has been diagnosed with feline leukemia, the two of you have a tough road ahead. There's no cure for the disease, and treatment consists primarily of supportive care. While most FeLV-positive cats succumb to the disease within a few years of diagnosis. Good care helps to maintain the quality of your cat's life and possibly extend it.
Feline Leukemia
Cats pick up FeLV from contact with the bodily fluids of infected felines. Lactating mothers can pass FeLV to their kittens, while other cats become infected through exposure to saliva from a bite wound or from urine or fecal material. While recently infected cats often display no symptoms, as time passes affected felines suffer from various physical issues. Sometimes cats bounce back from an FeLV-related ailment, such as an infection, but their health eventually deteriorates because the virus weakens their immune system. Your vet can prescribe medication to treat a FeLV-related illness, such as antibiotics for an infection.
Healthy Diet
Help keep your cat's immune system strong by feeding him a healthy diet. Ask your vet for dietary recommendations for your pet. Besides providing high-quality cat food, avoid feeding raw meat. If you consume unpasteurized milk, don't give it to Kitty. These foods might contain bacteria that an animal with a healthy immune system can fight off, but can cause serious illness in a cat with a compromised immune system.
Avoid Stress
Provide your cat with as comfortable and stress-free life as possible. That usually involves living as an only pet, or at least separated from other animals in your household. Not only can an FeLV-positive cat transmit the virus to other felines, but even insignificant squabbles take a toll on an infected cat's psyche. Needless to say, your cat must stay exclusively indoors. Give him a quiet place to hang out and lots of attention. Love is always good medicine.
Veterinary Care
Your vet is your partner in keeping your infected cat healthy. Kitty requires regular veterinary monitoring, including checkups and blood work. If your cat develops symptoms of any illness, no matter how minor, take him to the vet. A secondary infection can trigger the beginning of the end for your cat, so you must nip it in the bud. Your vet will recommend appropriate flea and tick control for your cat, along with a deworming schedule. These parasites cause far more damage in a sick than a healthy animal.