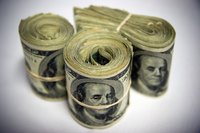 An inflationary depression is an inevitable part of our cyclical economy. If you've ever met someone who lived through the Great Depression, you might have seen the effects it had on their financial habits. Frugality, hoarding money and conservative investing are common habits of such people. These practices may seem unwarranted, but in times of inflationary depression they are invaluable. It takes a very conscious effort to survive such economic downturns, but with proper knowledge and planning, it is possible to thrive during an inflationary depression.
Things You'll Need
Stockpile your cash. Although the dollar will lose value during times of high inflation, it is necessary to have extreme liquidity to purchase the things you need to survive.
Sell excess property and high-risk investments. Property values, along with many sectors of the stock market, will quickly lose value with the falling demand in an inflationary depression.
Invest in gold. This is the quintessential hedge against inflation. Gold serves as a universal and extremely liquid unit of value. Choose to invest in certified gold bars or coins rather than ETF's or gold-mining companies, as they are not as stable or tangible.
Use banks and certificates of deposit that are FDIC certified. Banks will invariably fail during major depressions, especially those caused by inflation, and making sure your money is insured by the government is essential.

Invest in stable companies that provide products or services with fundamentally inelastic demand, like pharmaceuticals. Luxury items and services, along with their stocks, will be devalued during a depression because of greatly decreased demand.