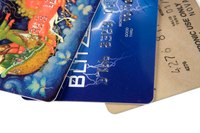 Sometimes you may find it necessary to overcome objections on your credit card account. This could include purchases you need rejected, late fees, over-limit fees, or a low credit limit you want raised. If you plan out your goals and what you want to say, remain friendly, and keep trying, you may be able to overcome any or all of these objections on your credit card.
Things You'll Need
Credit card
Credit card statement
Copy of credit report
Highlighter
Look over your credit card statement and highlight the portions you want to have changed. If it's a particular purchase, gather all the information you have about it, including receipts. If it's a fee you want reversed, highlight the exact date and amount so you'll go into the conversation with all the information you need.
Find your credit score--a 3-digit number that describes your overall credit risk from a lender's perspective--on your credit report and look at your total credit card debt and credit limits. If you're trying to get your credit card company to lower your interest rate or raise your credit limit, it may hinge on your credit risk to the company. Knowing that information ahead of time means they can't surprise you with it or dodge it by saying they don't have that information. If your credit score is below 650 you may have trouble getting more credit or better rates, so be prepared before you call.
Write down your goals for the conversation, with a summary of your findings from the first two steps so you can refer to them easily. You need a reason for them to give you what you want, so write down a few talking points about how this is good for the company. If your credit score is low but you make your payments on time, talk about how you're a loyal customer who always pays on time. If you've had late payments, talk about how you're back on track and it's in their best interests to keep you as a paying customer. If it's a single late fee or over limit fee, usually saying that you made a one-time mistake and will be more careful in future works well.
Call your credit card company. If possible call when you're in a good mood, well rested, and not hungry. Staying calm and friendly can help you achieve your goals. While you're on hold review your goals and talking points and take deep breaths. Remember that customer service representatives talk to many angry and frustrated people every day, so smile while you're talking, ask how their day has been, and thank them for their help. If you get stuck, try this: "I know it's not your responsibility to fix this problem, so I'd really appreciate any help with it since I'm not sure what else to do about it." You can always ask to speak to a supervisor, though wait until you've exhausted your possibilities with the first person you talk to.
Try again the next day if it doesn't work, and try different talking points. If they suggested anything you need to do first, like filling out a form or paying a bill, do that first before you call so they know you're doing everything you can.