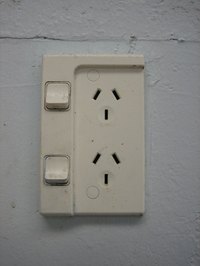 Preparing to travel to Australia can be stressful and frustrating. Between purchasing plane tickets and renewing passports, it's easy to forget that your American appliances will require converters and adaptors in order to work in Australian outlets. Purchasing the right electric converters and adaptors will help protect your appliances and ensure that you have a safe and enjoyable trip.
Things You'll Need
Check the volt and wattage ratings on your appliance. Some American appliances have more than one rating that allow for use in countries like Australia without a converter. If the volt input rating shows a range between 100 and 240 or above, no converter is needed and your appliance should work properly in Australian outlets. The number of watts your appliance uses will determine which converter you will need.
Buy a converter. If your appliance only has an input rating of 120 volts, you must use a converter, which can be found at stores that sell electronic equipment. Australian outlets have a voltage rating between 220 and 240. If you use an appliance rated less than 220, the extra electricity will damage or break your appliance, or potentially start a fire. There are different wattage ratings on each appliance, so check the converter's wattage rating to ensure it will work with your appliance.
Purchase an adaptor. Australian electrical outlet shapes differ from those in America. The typical appliance plug will not fit into an Australian outlet. The adaptor only allows American appliance plugs to fit into Australian outlets—it does not change or convert the voltage. If your appliance is not rated properly, you must also purchase a voltage converter.