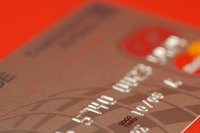 Credit-card companies rarely allow the name on a credit-card account to transfer to another person, but you can transfer the balance to another person's new or existing credit card as long as you have his consent. It's a straightforward process that can take as little as a few minutes, although it's always a good idea to thoroughly research the rates and policies for balance transfers to make sure you're not paying high interest rates.
Find out the interest rates for both your current credit card and the other person's credit card you want to transfer to. This should be listed on your credit-card statements. If the other person's interest rate is significantly higher than yours, it may be better to focus on paying down the credit card rather than accrue higher interest rates. Also, some cards have a higher interest rate for balance transfers, as well as a percentage paid for the total amount. This should be in the materials received with the original credit card or on the card's website. If you cannot find it, call a representative of the company and ask for their policies and rates for balance transfers.
Ask the person to whom you're transferring the credit card balance to fill out a balance transfer form either on their credit card's website or a paper version to mail or fax in. It will need your card's information, your name, their name and credit-card information, as well as anything else their form requires.
Send in or electronically submit the form and wait three to 14 business days, depending on the method used. If you haven't heard anything from the other person's credit-card company by then, call and ask about the status of the balance transfer. To expedite the process you could ask the other person to initiate the balance transfer over the phone.