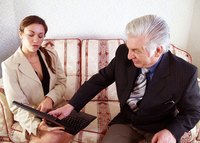 A good sales job description should give a complete, succinctly written summary of everything a candidate is to expect from the job. While the description should include the major duties and responsibilities, as well as education and prior experience preferences of the employer, you should also include an honest account of the salary, benefits and terms of employment.
Brainstorm to come up with a list of all the job's duties. Include the job title, such as "Sales Associate" or "Sales Representative." Because the job will most likely involve selling a product or service, include information about that product.
Starting with a new document, create a title, such as "Gordon's Jewelry Sales Associate Position." Beneath the title, include the department and name of the supervisor the employee will report too.
Type a short, two- to three-sentence paragraph description of the company and its product or service. While potential employees should research the company before applying, a basic overview of the company's purpose is helpful.
Type a "Duties and Responsibilities" heading and list the duties you brainstormed in Step 1. Focus on the biggest, broadest aspects of the job, such as "advise clients on product usage."
Type an "Additional Skills and Responsibilities" heading and list the minor responsibilities and/or specific skills that the ideal candidate should have, such as proficiency in certain computer programs or strong people skills.
Type an "Education and Experience" heading and list the requirements, including the type of degree(s) the ideal candidate should hold, how many years' work experience is required and whether that experience should be at a specific level, such as assistant or associate. If you will be giving preference to candidates with a higher level of education or more experience, indicate that in this section.
Type an "Additional Qualifications" heading and list any other specifics that the ideal candidate should know, such as whether the sales job requires owning a car, traveling or speaking a second language.
Type a "Terms of Employment" heading and add a list that states the length of employment in months or years for contract hires, a salary window, and whether the salary will be negotiable and/or varied based on experience or education.