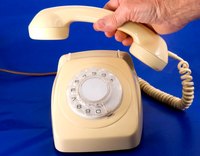 Businesses want to be found and contacted by potential customers. It is difficult, however, to obtain the phone number for some businesses. You receive a letter in the mail from a business, but you cannot find the contact phone number in any of the paperwork. You spot a fairly new business while driving down the highway and you want to call to inquire within, but you don't have a number. In either situation, you can find the business phone number with just the address and the power of the internet.
Use your favorite search engine and browse for a business listing website, such as AT&T's Reverse Address Search (see References). Use the following keywords in whatever fashion you choose: "business," "reverse," "lookup," and "address." The web page should have blank fields prompting input for "City" and "State" at the very least. However, try to narrow your search with the "Street Address," "Zip Code," and "Area Code."
After deciding on a website, input all of the available business address information you have into the respective fields on the web page. Verify you have spelled the city and street names to the best of your ability, and then click the "Search" or "Find" button.
Scroll through the list of results, if there are many. If the results are too broad, numbering into the hundreds, consider narrowing your search based on the options available, such as by "Distance."