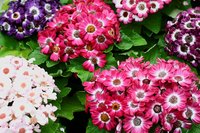 During spring and summer, when home gardens are in bloom, many families turn to nurseries to buy their flowers, shrubs and ground cover. For the busy family that isn't able to start a garden from scratch, flowers and plants from nurseries allow their garden to thrive and look stunning with a minimum of work. Starting a nursery can be a hobby or a new career, but it is a rewarding job for anyone who enjoys working with plants.
Things You'll Need
Pick a preferred type of customer. Nurseries can be geared toward selling of plants to local people or to wholesale businesses. The type of customer will dictate the type of plants that should be grown. A nursery that is geared toward local business will want to grow a variety of plants, while a nursery geared toward wholesale businesses would need to grow fewer types of plants in larger quantities.
Research the customers and competition. Finding out what customers are looking for as well as what is readily available from the competition can give an edge to the starting of a new nursery. Ask around for potential customers and ask future competitors about what they typically sell out of as well as what they are unable to sell.
Research the plants. Every small detail about proper care, transplanting and similar information should be obtained before starting to grow them.
Purchase liners. Liners are the immature plants that must be cultivated to maturity. These can be purchased from a propagation nursery. These are faster and more cost-efficient than trying to grow the plants without the liners.
Grow the plants. Plants will need to be taken care of carefully. If weeds are spotted, pull them out. Insects can be devastating, so be prepared to kill a variety of insects that can harm the plants.
Sell the plants. Not every plant will sell, so prepare ways to get rid of the plants that cannot sell within certain time periods. Plants can be burned or sold to certain wholesalers. Sometimes charitable donations can be an option, but most charities will not accept plants.