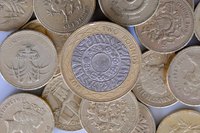 A Unique Taxpayer Reference number is assigned by Her Majesty's Revenue and Customs to all UK taxpayers who register themselves as self-employed. It's a ten-digit number that's required for several tax operations, including the online filing of tax returns. Unfortunately, it can be tricky to find, since HMRC treats it as very sensitive information.
Check any documents you've received from HMRC. Your UTR is printed on Tax Returns, Notices to Complete Tax Returns, Statements of Account and may appear on other documents as well. It may be labeled "UTR," "Tax Reference" or even "Official Use," but it will always be a ten-digit number. If you don't have any documents containing your UTR, continue to the next step.
Locate the tax office that services your area. A link to HMRC's online office locator is in the "Resources" section below.
Contact your tax office, either by telephone or in person, and request your UTR number. This is considered sensitive information and will have to be mailed to you, but it should arrive in the next few days.