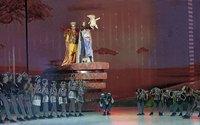 Before you can write a marketing plan, you must conduct research on potential clients and competitors. You'll use this information to formulate your plan and support your decisions. When you're ready to put your live theater marketing plan to paper, use this guide to write the components you need.
A typical marketing plan is divided up into several sections. These pieces can vary depending upon your organization and your particular needs but some sections are standard including SWOT analysis, the target market, advertising and goals and accountability.
SWOT Analysis
Compile your theater's strengths, and compare them to the competition. Strengths are unique advantages an organization has that cannot be easily duplicated. Perhaps your live theater has a knack for finding and presenting avant-garde material.
Outline your company's weaknesses and those of your competitors. If your stage is particularly small and you cannot present space-consuming productions, this would be considered a weakness.
Identify market opportunities. Opportunities are positive external factors; you don't have control over them. If general interest in the theater increases; that trend is positive for all live theater owners.
Identify market threats. Threats are external factors that are potentially harmful to you and your competitors. For example, if families across the nation start slashing their entertainment budgets, that's bad news for all entertainment providers.
The Target Market
Identify potential customers. Let market research and your theater's strengths be your guide for your selection. Use detailed characteristics such as age, education and gender to define your market.
Mention how many people there are in your target market. Research census information, public records and personalized market research reports to get the statistics you need.
Support your target selection. For example, if your theater's strength is presenting cutting-edge material and this kind of work is most appealing to young theater-goers, it makes sense to target these individuals.
Advertising
Describe in detail every marketing channel you plan to use to reach your target. Support your advertising choices with market research. If people with a college education are more likely to go to the theater, it makes sense to advertise in college alumni magazines.
Include rough drafts for television, radio and print spots. Even if elements change when you actually produce the piece, this section will define the general direction you want to go in.
Place budget information for each element of your plan. Include estimated costs to run every commercial, design every ad and mail every donation letter.
Goals and Accountability
Outline the marketing goals of your plan in this section. They may be a certain number of ticket sales, purchases by a particular group or even more donations.
Summarize a strategy to measure your plan's effectiveness. If your theater plans to run an ad that includes a coupon, you may measure the success of the piece by the coupon redemption rate.
Include time lines and summarize your course of action if things do not go as planned. In the previous example you may decide to stop running the ad if less than 1,000 coupons are redeemed by a certain date.