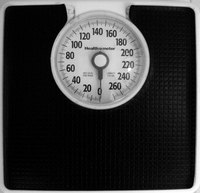 Maintaining a healthy weight is about more than just looking good. A healthy weight promotes good health and increases confidence as well. However, maintaining that healthy weight is a challenge, because you are surrounded by a world of unhealthy habits and indulgences. It's possible to keep your healthy weight by ignoring those unhealthy habits and exercising willpower to keep yourself looking and feeling great.
Make a meal plan that fits you. Write down the types of foods you're going to eat throughout the week, how often and when. This allows you to form a plan that you can stick to, instead of choosing meals spontaneously. Choose foods that are healthy, such as vegetables, fruit and lean meats.
Limit your intake of calories. If your typical calorie intake is 2000, then ensure what you're eating and drinking allows you to stay around that range. You can consume more calories if you balance the increased calorie intake with increased exercise.
Shop on a full stomach. It's difficult enough passing up fast food on an empty stomach, but passing up aisles upon aisles of unhealthy but oh-so-tasty food is a real test for your willpower. Avoid the test and instead shop on a full stomach, ensuring that you'll shop smart and buy healthy food.
Stick to healthy habits. Chances are if you're currently at a healthy weight, then you've picked up some healthy habits to assist you. Don't change them. If you've made a promise to lay off candy bars, continue to do so. Cook healthy meals at home instead of going out to fast food joints.
Limit your intake of sodium. Your body typically needs only 1500 to 2400 mg of sodium per day to function correctly. Any more than this is unnecessary and leads to water retention, which makes you gain weight in the form of water.