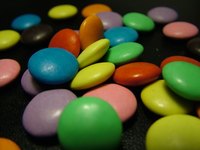 Sending food is a popular thing to do between families who want to share goods from their country with their relatives in the Philippines. A popular shipping method is by sending a large box called a Balikbayan box by boat. If sent by boat, the weight does not matter as long as everything you are sending fits into the box. Another method is sending it by air, or opting to use a plastic drum to ship food items. The most important thing to remember is to only place non-perishable items into the box and wrap each item separately with bubble wrap or newspaper.
Things You'll Need
Sturdy box or plastic drum
Shipping materials (bubble wrap, newspaper)
Packaging tape
Non-perishable food items
Black marker
Sending Food to the Philippines
Buy a Balikbayan box from a nearby shipping center that specializes in sending goods to the Philippines. The common size is 4.5 cu/ft (18"x18"x24"), but they also come in smaller sizes of 3.0 cu/ft (18"x18"x16"), or even smaller: 1 cubic feet (12"x 12"x12"). If sending by sea, there is no limit to weight, as long as all fits into the box. By air, standard shipping costs apply.
Choose non-perishable items to place into your box such as rice, canned meat or vegetables and candy. Wrap more fragile items in bubble wrap and newspaper and wrap less fragile items in just newspaper. This is to ensure that the items don't get damaged, but also to prevent the items from shifting and damaging other items.
An alternative to the box is a plastic drum with dimensions: 5.95 cubic feet (28.5" x 19" x 19"), 30 gallons or 10.5 cubic feet (37.5" x 22" x 22") 55 gallons. These are water tight and can be used if you are shipping any liquids.