Things You'll Need
Paxil prescription
Glass of water or juice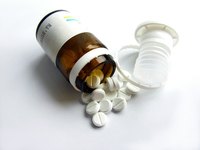 Paxil is a type of antidepressant in the pharmacological class called Selective Serotonin Reuptake Inhibitors (SSRIs). These types of antidepressants are prescribed to treat various anxiety disorders, obsessive-compulsive disorder, depression, premenstrual dysphoric disorder (PMDD) and post-traumatic stress disorder (PTSD). SSRIs are notorious for being addictive and are hard to stop taking. However, if done with a doctor's supervision, planning and patience, weaning off Paxil can be done with minimal withdrawal symptoms.
Talk with your doctor about weaning off Paxil. Discuss your level of sensitivity to the drug, confirming if it is high, average or tolerant. Ask for the liquid form of Paxil or if tablets are prescribed for easy cutting instead of the capsule.
Fill the prescription. If the prescription is in liquid form, follow the directions on the bottle for proper dosing and dilution in a glass of water or juice. If the prescription is in tablets, cut a few pills to adjust dosages if needed (see Tips for guidelines on cutting pills).
Decrease your former dose by 1 mg if you are highly sensitive, by 2.5 mg if you have average sensitivity or 5 mg if you are tolerant of Paxil. Continue this dose for one week if you are tolerant or two weeks if you have average to high sensitivity to the drug.
If you are tolerant, after one week, decrease the dose by 5 mg once more. After two weeks, if you have average to high sensitivity, decrease the dose by 2.5 mg and 1 mg, respectively.
Repeat Step 4 until you are off Paxil. This process can take anywhere from two weeks to one year.