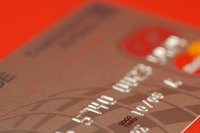 Credit cards are convenient plastic cards used to purchase items now and pay for them later. There are many types of credit cards out there, and many ways to apply for them. The most common methods are by phone, the Internet or by a paper application form. Credit cards offer you a limited amount to spend, at a specific interest rate, with a minimum payment due each month.
Visit your bank to inquire about the types of credit cards they have available, and what the interest rates are. Gather all the information you can to understand the differences in rewards, rates, services and other features. Your bank can walk you through the application process and help you fill out the required forms.
Visit the website of the credit card you know you want to have, if you prefer to apply online. For example, if you visit the Visa website, the navigation bar on the left has a link to "get a card." Click that link and you will be provided a list of banks and financial institutions that can issue a credit card to you.
Click the link of the bank you use, or the financial institution you wish to deal with for the credit card. View the list of credit cards, review the details carefully, and click on the one you're interested in.
Follow the prompts to fill in the required information such as your name, your address, your birth date and your social security number. Submit the application when all the required fields are filled in. Your application will then be reviewed and a card will be sent to you within a few weeks from the financial institution.