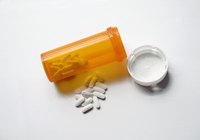 Zoloft is an antidepressant of the Selective Serotonin Reuptake Inhibitor (SSRI) class used to treat depression, obsessive-compulsive disorder, post-traumatic stress disorder and panic and social anxiety disorders. While Zoloft is generally well-tolerated, sometimes people discover that the drug is not working for them, or they struggle with certain side effects. Getting off an SSRI can be tricky business, which is why you'll need time and planning to stop taking taking Zoloft.
Things You'll Need
Prescription from your doctor
Talk to your prescribing doctor about getting off Zoloft. Your doctor will give you the proper prescription, if necessary, as well as her recommendations.
Start taking 25 mg less than the previously prescribed dose. This may require a new prescription or cutting pills in half to get the correct new dosage. Take this new dose for one week.
Reduce the dose again by 25 mg, maintaining this new dose for another week.
Repeat step 3 once a week until you are off Zoloft. This can take two to eight weeks, depending on your original dose.