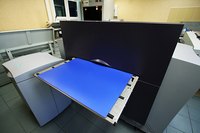 Printing companies provide service to businesses, organizations and individuals. There are a number of different types of printing businesses. Digital printing offers a newer business opportunity. Printing used to require technical and costly setups. Starting a digital printing company will give you an advantage over traditional printing companies. These companies, like companies that offer offset printing, require large print runs, making printing too costly for many small businesses, organizations and individuals. Offer short run printing for a competitive edge by using digital printing technology. It eliminates the high cost of setups with traditional printing equipment.
Things You'll Need
Business plan
Lawyer
Accountant
Storefront/printing area
Printing equipment
Printer maintenance supplies
Printing supplies
Point of purchase displays and sample books
Employees
Website
How to Open a Printing Company
Develop an effective business plan. Carefully research, write and revise a business plan. Spend a great deal of time perfecting your business plan. Use it to guide your business and attain financing if you require outside sources of start-up capital.
Find a lawyer to assist you with the legal side of opening your printing business. There are many legal considerations to starting a business from the legal structure, forms, liabilities and contracts. A lawyer familiar with the laws in your area along with state and federal laws will guide you through the process so that you can focus on the creative side of things. If you feel that you do not need a lawyer, your local Small Business Association has many free resources on starting a business. A local chamber of commerce or business association may also be able to provide you with helpful resources.
Hire an accountant. Work with your accountant to fill out and file all of the necessary financial forms on the local, state and federal level. Set up an accounting system with the assistance of your accountant. Consult your accountant regularly. If you feel that you do not need an accountant you can use an accounting program or a basic ledger.
Research potential areas to locate your printing company. Select an area that central to the businesses in your area. Locate a central, convenient, and visible storefront with space for production and service areas inside. Lease or purchase the property after careful consideration.
Decide what type of printing services your company will offer. At the start offer digital services in with no minimum to short run printing to keep costs down. If demand grows to a point that you cannot handle the load, consider enlarging your operation.
Lease or purchase high quality digital printing equipment. Evaluate the equipment based on the services that you will provide. Choose the most effective equipment for those services.
Locate a source of printing and printer maintenance supplies. If you are leasing your equipment, the company may provide service and supplies. Consider using environmentally friendly inks, toners and paper as more and more consumers desire to lessen their environmental impact.
Design and print point of purchase displays. Design and print binders with samples of paper and printed examples of your services.
Hire employees that are knowledgeable or trainable in the printing business.
Hire a web designer to design a website. Incorporate contact, about us, location, and services pages into the design. Include samples, past clients and testimonials on the website. You may choose to offer an online file upload service to allow customers to upload their files for printing.