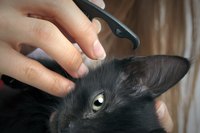 If your kitty has an ear infection or is suffering from ear mites, your vet may prescribe Tresaderm. This medication is a combination of ingredients that help to alleviate the irritation from the infection and kill off pathogens in the ears. You administer this topical medication into your cat's ears; your vet will let you know the correct dosage for your particular cat.
How Tresaderm Works
Tresaderm contains three active ingredients: thiabendazole, dexamethasone and a neomycin sulfate solution. Thiabendazole is an anti-fungal medication that fights yeast-based ear infections and kills mites and mite eggs. Neomycin, an antibiotic agent, kills most types of bacteria that can cause ear infections. Dexamethasone is a cortecosteriod that reduces pain and inflammation.
Preparing Your Kitty's Ears
Prior to administering Tresaderm to your cat's ears, you'll need to clean them. Any debris in the ears can reduce the effectiveness of the medication and needs removal. With your kitty in your lap, lift up each of her ear flaps and place a few drops of a gentle ear-cleaning solution into the ear canal. You can find appropriate solutions in pet supply stores, or your vet's office may carry it. Let your cat shake her head, then use a cotton ball to wipe out the excess solution. Allow the ears to dry completely for a few minutes before administering Tresaderm.
Administering the Tresaderm
Your vet will prescribe the proper dosage of Tresaderm for your feline friend and let you know how often to administer it, based on the severity of the ear infection. Generally, cats take the medicine twice a day.
With the cat's ears cleaned and air-drying, warm the Tresaderm bottle in your hand for a few minutes so the solution isn't chilly when it goes in Fluffy's ears. With your cat in your lap, hold one ear flap up and back. Insert the tip of the Tresaderm bottle just into the ear canal, ensuring that you can still see the tip. Squeeze the bottle to administer the prescribed number of drops. Massage the base of each ear after administering the medication to allow it to penetrate deep into the ears.
Tresaderm requires refrigeration, so always store it in your fridge between uses to keep its active ingredients effective.
Precautions and Side Effects
Side effects are generally mild. They may include redness in the ears if your kitty is sensitive to neomycin. In severe infestations, your cat may experience a bit of pain, lasting for two to five minutes after you administer the drops, according to the Doctors Foster and Smith Pharmacy website.
Less common side effects usually occur when the medication is given in high doses; they may include increases in urination, thirst or appetite; vomiting; diarrhea; weight gain; and changes in behavior. If your kitty is allergic to any of the ingredients in the medication, she may experience hives, facial swelling, scratching, seizures and even coma. Let your vet know right away if any of these effects occur.
Veterinary Recheck
After you complete the full prescribed course of Tresaderm, visit the vet again to ensure that the medication has completely cleared the infection from one or both of her ears. For mite infestations, your kitty may require a second round of treatment to kill remaining mites or eggs.