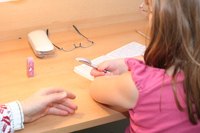 Many teachers start tutoring in addition to teaching as a way to bring in extra income. Finding students to tutor can seem hard for those just starting out, but advertising your tutoring services does not have to be complicated or expensive. While you may not have the money to compete with television advertisements from commercial learning centers, you can advertise effectively and have several students in no time at all.
Build a professional-looking website that promotes your tutoring business. This gives potential clients a way to find out information when they hear about you and a way to tell clients what you offer before you speak to them.
Websites like wordpress.com or blogger.com allow you to build a free website with minimal effort. You can then use this website to publish some basic information for potential clients, including your contact information, subjects you tutor and your fees and availability.
Business cards are a helpful way to distribute your name and contact information in a professional manner. Office supply stores can help you create a business card with your name and telephone number for a relatively low cost, or you can purchase business card templates and make them from your own printer with a word processing program.
With business cards in hand, you can spread the word about your tutoring services quickly and easily. Hand out cards to parents, teachers, friends and even your hairdresser. Cards can be placed on community bulletin boards at the library, recreation center, grocery store, or other public places.
Because many people go to the internet first to search for information, it's important that you use the internet to advertise yourself and your services. There are a variety of options available for advertising on the internet. One is to bid on ads through Google Adsense, Yahoo Overture or other search engines. The cost for this can be kept low due to the fact that you only pay when someone clicks on your ad, and you get the option to set the price for each click.
You can also post an ad on a tutoring website. There are several websites that offer tutors the option to advertise, and while some charge a fee, others are free.
Another internet advertising option is to include your tutoring information in online business directories, such as yellowpages.com. This can often be done free of charge.
Advertising in the newspaper or on the radio or television are possible options, although they are often costly and are best for those advertising a larger tutoring business. Contact your local newspaper or radio station for more information on advertising.