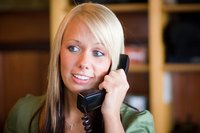 No matter what type of product or service they provide, most companies want a receptionist who will project a positive, pleasant and efficient image on the telephone and at the front desk. Whether it's your first job out of school, a part-time assignment to earn extra money or a return to the workforce, your CV for a receptionist position should concisely reflect your communication skills, your technical expertise, your attention to detail, and the ability to work well with others in a professional environment.
Open a new document in Word, set one-inch margins on all sides, select single-spacing, and choose 12 pt. Times New Roman, Bookman or Courier New as the font for your text. Center your name and complete contact information at the top of the page.
Compose a short career objective statement at the left margin and three spaces below the last line of your contact information. While many candidates for receptionist positions omit this step or simply type "Receptionist Job" as a subject line, employers always take note of applicants who appear to have given genuine thought to their career goals. Example: "Seeking receptionist position in academic environment that will allow me to interact with and assist multicultural students."
Create a subheading in all caps at the left margin to address your work experience in reverse chronological order. For each entry, specify your working title, the name and location of the company, and a bullet-point list of your responsibilities. Use action verbs as well as results-oriented accomplishments to demonstrate how you made a difference in saving the company time and money.
Highlight any volunteer experiences you've had in your school, church, neighborhood or club that allowed you to work with a team, raise money, make speeches, write press releases, design posters, exercise leadership or participate in civic-improvement projects. This is especially important if you've never held a paying job.
Draw attention to your technical skills and any training you've had relevant to the duties of a receptionist. Examples: Typing, shorthand, multi-line phone systems, key data entry, bookkeeping, proficiency with word processing and spreadsheet software programs. If you speak a foreign language fluently, this is the place to mention it.
Include any personal attributes that will bring value-added to the receptionist position. Examples: Ability to work without supervision, courteous demeanor, ability to multi-task and work well under pressure.