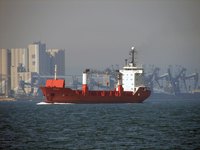 To export in India, you must first obtain an export license. Before submitting your application, you should consult the latest import and export procedures and policies, which list all the regulations for obtaining an export license in India. Before you receive a license, a careful review will be conducted of the factors surrounding the your intended export transactions. Licensing is determined by the goods to be exported and the port of export.
Determine the business structure. You need to decide whether your export business will operate as a sole proprietorship, partnership or a public limited company. This is determined by a number of factors, such as the size of the business, its capital requirements, ability to bear risk and the regulatory framework that you need. A sole proprietorship is not subject to complex government controls. A partnership is formed under the Indian Partnership Act. Choose to form a limited company if you want to start a large export business. Register the company at the registrar of companies in the state where you intend to operate.
Choose from the four modes of operation. If you operate as a buying agent, your company will acquire goods on behalf of the buyer and charge a commission. A merchant exporter buys products from the market and sells them to foreign buyers. A sales agent acquires goods on behalf of the seller and charges a commission for services provided. An export manufacturer manufactures goods and exports them.
Classify the goods you will be exporting. Only certain entities are allowed to export certain commodities. For instance, only specified banks are allowed to export gold in bulk. To identify whether you can export your goods, you will need to carry out ITC (HS) Classifications. Goods that are allowed to be exported in India are found in ITC (HS) Classifications 2. You can determine this by applying to the Director General of Foreign Trade. The Export Licensing Committee will then determine if your application for an export license in India is viable.
Apply for the export license. Submit your application for a grant of export license, accompanied by the required documents, to the director general of foreign trade in the region in which you intend to operate. You will receive an import-export code number that will allow you to conduct your export activities in India.