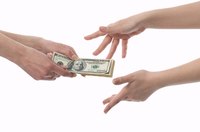 There are times when you may need to borrow money as soon as possible. Pulling money out of your savings account, or borrowing from friends and family may not be an option all of the time, but getting a loan may be the answer. If you are employed and have your paycheck directly deposited into your checking or savings account, and have no other outstanding payday or cash advance loans, you may qualify to get a loan overnight. There are companies available to provide you with a loan to help ease your financial dilemma, and you can receive the proceeds of your loan via wire transfer into your checking account overnight. Once you apply and submit any requested documentation, most lenders quickly let you know if your loan request has been approved, and will forward the funds directly to your checking or savings account. Usually, your loan can be repaid on your next payday, or other date arranged between you and the lender.
Things You'll Need
Checking or savings account
Job
Direct deposit
Copies of bank statements and pay stubs for last 30 to 90 days
Copy of your photo ID.
Access to fax machine (if necessary)
Personal references
Gather required documentation and information needed for approval. Most payday or cash advance lenders require minimal documentation--but among the most important are copies of your bank statements, recent paycheck stubs and a copy of your photo ID.
Visit any of the many lenders' websites available online and apply for the overnight loan. The process takes place almost completely online. Fill out a loan application on the lender's website (see Resources). Many other overnight lenders can be found by searching online.
Promptly fax or email any requested documents. Some lenders may require that you fax them a copy of your most recent paycheck stubs and bank statements. It's best that you fax off these requested documents as soon as possible. The sooner the lender can receive the requested documents, the faster they can approve your loan and deposit funds into your account.
Check your bank account. Once the lender has confirmed approval, sent you a copy of your agreement and confirmed the deposit of funds, all you'll need to do is check your designated account after the proper duration of time has passed and retrieve your loan proceeds.