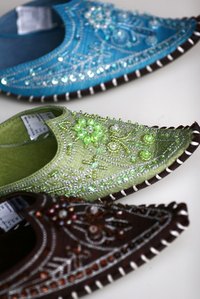 A business plan is a written description of a particular business, its goals and how they will be implemented. Writing a business plan for a shoe company will set the foundation for a successful business by taking creative fashion ideas or services and turning them into a reality. A well written plan will help you organize and implement the type of building, equipment and materials needed to run your shoe company. Financial institutions and lenders often ask for a business plan prior to offering loans or financial support.
Things You'll Need
Word or Notepad program
Printer
Demographic research
Financial research
Write the executive summary. The executive summary is an overview of the complete business plan. It gives a brief description of a proposed business, its goals and how they will be implemented. A reader should have a basic understanding of the business by reading just the executive summary. The mission statement and objectives should also be described in the executive summary.
Explain the products or services you intend to sell. If a bank or donor is going to support your business, they'll want a complete understanding of the shoes you plan to design and sell. Thoroughly describe the shoes you plan to sell or the service you will offer and explain why they are needed. The more detailed your description, the better.
Describe the market needs analysis. The market needs analysis explains who will buy and use your product. Describe your intended target audience, their demographics and why they would be interested in your shoes. Also mention and explain any businesses that will be competition to your shoe business.
Explain your business' organization and management. Write an organizational flow chart of employees and their job descriptions. List the managers or leaders at the top of the chart and subsequent employees under them. Also explain where you will buy your products and materials needed to run the business.
Write the strategy and implementation summary. This part of the business plan explains how you will market and advertise your shoes. Specifically describe the types of marketing you will use (radio, billboards, brochures, etc.) and who will create your advertising materials.
Outline the financial plan. Give a detailed outline of how and where you will find funding for your shoe business. Will you apply for grants or loans? If so, what bank will you apply for the business loan at? Give specifics of which grants you intend to apply for. Also include an annual budget that states a forecast of financial needs, expenses and revenues.
Create the appendix. Compile charts, graphs and other supporting documents in a neatly organized appendix.