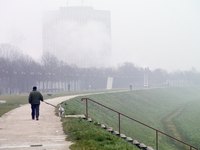 A dog walking business is one of several pet-related career options for the animal lover. It requires almost no overhead costs, but there are some start-up expenses to consider. Insurance is important in this type of profession. Dog walkers are at an increased risk for personal injury as well as lawsuits. Different types of insurance cover these situations, and having the appropriate coverage gives a dog walking business a competitive advantage. Pet owners are more likely to seek the services of a dog walker who is bonded and insured than one who is not.
Become a member of a professional pet care organization. These organizations provide a number of member benefits. Some offer insurance discounts, mentoring and business promotion. Compare the benefits of nationally recognized organizations, such as the National Association of Professional Pet Sitters and the Pet Care Services Association, to see which is best for your business.
Select a liability insurance provider. Some companies offer a small business package that includes liability insurance, or you can find a company that offers it separately. Liability insurance helps protect you in the event of a lawsuit. The pet owner may sue you if his dog is injured or dies while in your care, and in many states you are liable if the dog bites or attacks someone while under your supervision. If you are successfully sued, the insurance company will pay out the amount of coverage you purchased. For example, if you purchase $1 million worth of coverage and are sued for $2 million, the insurance covers half.
Verify that you are covered for job-related personal injury. Your health insurance may not cover dog bites sustained on the job, so additional coverage may be necessary. If your health insurance provider does not cover personal injury, consult a home-based business insurance provider for information about worker's compensation. If your dog walking business employs other people, you may want to consider criminal insurance. If your business is web-based, Internet business insurance can protect against online issues, such as copyright infringement.
Purchase a surety bond. This assures your clients that you will fulfill your end of the agreement to walk their dog and protects clients in the event that you or another dog walker in your employ steals from them or causes property damage. Bonding companies sell surety bonds, usually for an annual premium.