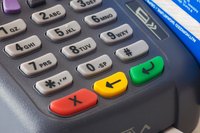 To accept credit cards, your business must be able to debit or charge the sale through use of a merchant account. This is account set up with a bank or credit-card processing company to manage the transaction and deposit money in your bank account.
Things You'll Need
Credit card terminal machine
Accepting credit cards is necessary in any retail business. Most people do not carry a significant amount of cash for routine purchases. The credit card and debit card are more convenient, enabling them to make purchases without carrying cash and also keep better track of their spending.
Research companies that process credit and debit cards by providing you with a merchant account. This may be a bank or a company that only processes transactions.
Check the fees and discounts applied to each transaction. Most merchant accounts will involve a monthly fee. There will be a discount fee applied to the transactions. The processor will collect a percentage of the transaction. These fees vary greatly from provider to provider.
Consider the time lag between the transaction and when money is deposited in your account. Some companies deposit each day's transactions within 24 hours. Other companies may take several before the money will show in your bank account.