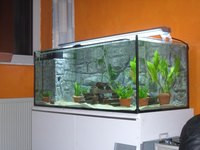 When properly cleaned and cared for, aquariums can serve as havens of thriving, multi-colored life and vitality. Fish and other aquatic life, as well as a variety of aquatic plants, can grow in these glass-encased homes. However, unbalanced nitrates in the water can lead to excessive algae growth. Nitrates are nutrients that help plants grow. They are caused by excessive food or waste in the water. Planting fresh, healthy aquatic plants can lower the nitrate level and prevent algae growth.
Things You'll Need
Aquarium plants
Plant lights
Add fast-growing plants to your aquarium. There are a variety of plants that can fill this purpose. Floating plants like duckweed (lemna minor), or stemming plants like "red" plant (hygrophila sp.) will quickly absorb extra nitrates in the water.
Provide your aquarium plants at least 12 hours of light each day. Use high-intensity plant lights to encourage the plants to grow quickly, thus absorbing nitrates. Avoid direct sunlight; algae will grow better in direct sunlight than under artificial plant lights.
Remove any algae as soon as it appears. Algae will compete with the fresh aquarium plants for nutrients and light. Skim algae off of the surface or pull it free with your hand and dispose of it properly.
Change your water frequently to remove free-floating algae and nitrates. Change at least 15 percent of your water once per week; full tank changes should be performed at least once per month. This removal of excess will help the aquarium plants keep nitrate levels under control.