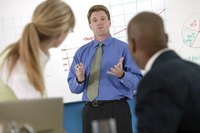 Whether you are writing a business plan that targets a single person to get a lease or will be shared with dozens of potential investors, your cover letter may be the first impression people have of your company. Considering that your business plan may be vying for the attention of people who are pressed for time and looking at other deals, you'll want a cover letter that commands notice, communicates your message and encourages the reader to take a suggested action.
Write for the People Who Will Read It
You may be extremely excited about your business, but the cover letter for your business plan has to be written for the people who will read it. For example, if you're sending out a business plan seeking investors, keep in mind the clichés that they see every day. One of the biggest is any wording that describes your business as an "exciting opportunity." Instead, use the first sentence in the cover letter to provide an engaging point about your business that sets it apart from your competition.
Address the Problem Your Business Solves
Businesses attract customers by providing unique solutions to their problems, which can get the attention of investors. For example, a common problem for cellphones users is dropped calls in dead zones within a provider's coverage area. Your company manufactures a small attachment that magnifies weak signals in dead zones, which solves that problem. Describing the problem and your solution will give readers a clear idea of what your business does. You can strengthen your message by providing proven results delivered by your product. Using the previous example, you could mention extensive test results showing that your device reduced the number of dropped calls by an average of 90 percent. The combination of a solution that solves a common problem with impressive results can make a compelling argument that piques the interest of the reader.
What's in It for the Reader?
Your cover letter should appeal to the reader's self-interest, which may also be posited in the form of a solution. For example, the problem investors are constantly trying to solve is finding companies that can make them money. Your solution to a potential investor's problem could be a product with a high profit margin per unit that is being sought after by a large market of consumers. By tailoring this aspect of the cover letter to the specific interests of the target audience, you will provide strong motivation for taking the next step toward working with your business.
The Call to a Specific Action
Even the best cover letters are unlikely to close a deal, and that should not be the purpose at this point in the building of the relationship with the reader. The cover letter should prompt a smaller step with a call to take a specific action. The suggested action can be to read the business plan in full, make a call to your company or schedule a meeting. If you have fully engaged the readers of the cover page, they will be looking to take another step in the process, and the call to action will help them do that.