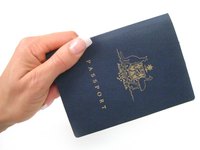 Getting a passport is important because is enables you to legally travel in and out of the United States. Many people from Maine vacation in neighboring Canada. Traveling across the border is prohibited without a passport.
Obtain Form DS-11, which is required to get a passport. Pick one up at a post office or a local Maine passport agency, or download the form from the U.S. Department of State website (see Resources for a link).

Fill the form out completely with either a blue or a black pen. Do not leave any sections blank. Complete all the answers to the full extent of your knowledge.

Get two pictures of yourself taken. The pictures must be 2-by-2 inches with a white background, identical and you must be taken in the past six months. Do not wear anything that hides your features. Post offices and passport offices take pictures for a fee, as do many local photographers.

Gather your proof of identity and make copies. Picture identification such as a driver's license or a Military Identification card counts as one form of identify. You also need your birth certificate or proof of citizenship. Bring the originals when you go get your passport and attach copies to your paperwork.
Take the paperwork and your pictures, along with your proof of identity, to your local U.S. Passport facility. In Portland, go to the Portland Post office or the Portland City Clerk. In Bangor, go to the Bangor Post office or the Bangor City Clerk. In Sanford, go to the Sanford Post office. The U.S. Passport Service Guide has a complete listing of all Maine Passport facilities (see Resources for a link). File the paperwork and pay the appropriate passport fees.

Wait for six to eight weeks to receive your passport in the mail.