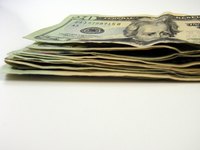 While buying low-priced stocks can be risky, it can be rewarding as well. When dollar stocks make their moves, the price action can be quite dramatic. While it is generally a bad idea to sink too much money into these types of stocks, there is no reason why an experienced investor with a high tolerance for risk can't put a couple of hundred, or even a couple of thousand, dollars on the line as a bet that those dollar stocks will rise sharply.
Things You'll Need
Open a brokerage account if you do not already have one. Choose a low-cost Internet broker to keep your trading costs as low as possible. TD Ameritrade, E*Trade and Scottrade all allow investors to buy and sell stocks with commissions of less than $10 per trade.
Use the online stock screening tools on the brokerage website to screen for stocks with a share price of less than $1.00 per share. Most of these stocks are traded on the over-the-counter market, but a few can be found on the major stock indexes as well.
Review the financial information on the stock, including any news items that could cause the stock to rise in the future. Also review the 52-week high and low on the stock to get an idea of how volatile it is likely to be. A stock with a huge difference between the high and low will tend to be quite volatile, and it is important to be prepared for that risk.
Go to the trading menu once you have identified the dollar stocks you want to buy. Enter the ticker symbol of the stock and the number of shares you want to buy. Review the order and click "Submit" to send the order.
Print a copy of your trade confirmation and keep it with your tax documents. You will need to document the purchase price of the stock when you sell the shares and book your profit.