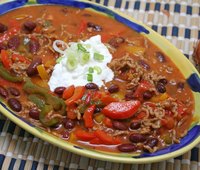 Having a limited budget and cooking for a family can be a difficult task for many parents at first. It actually becomes quite easy by planning ahead of time. It is a misconception that limiting food expenses leads to lessened nutrition or a lack of variety. Many low-cost, nutritious foods can be prepared. Just make a grocery list, plan your meals and search for the best deals.
Write a shopping list ahead of time, being aware of what is already in your refrigerator or pantry. The University of Maine Cooperative Extension recommends using lower amounts of poultry, meat and fish. Check store flyers and coupons ahead of time for the best prices for what you need.
Buy pantry staples such as rice, pasta, spices and beans in bulk or large quantities. These products will last at least a month if sealed and stored properly. Beans are a cheaper protein alternative to meat with the added benefit of a much longer shelf life.
Plan meals and purchase vegetables and fruits based on what is in season. The Alabama Cooperative Extension System suggests purchasing oranges and winter squash during the winter and peaches, watermelon and green beans during the summer. Also check for farmer markets in your area since the produce is often cheaper and fresher.
Cook recipes that can be frozen in large amounts. Chili, soup, stew, spaghetti sauce and cooked beans can be thawed out for a quick meal. Cook whole chickens and freeze leftovers to use for more than one meal.
Make desserts and mixes for biscuits, pancakes and other prepared foods from scratch. Wrap and freeze extra pancakes so that you can reheat them quickly in a toaster. Instead of buying packaged snacks, make your own granola bars or eat fruit. Make home-popped popcorn or serve homemade dips such as hummus with raw vegetables or homemade pita bread.
Plan for leftovers and use them in other meals. A mixture of beans or meat that was used in tacos can become a filling for burritos or an addition to chili or stew. Leftover roast beef or pork can be used in fajitas or stir-fry.