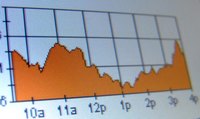 Stock is a share of ownership. It is purchased and sold on stock exchanges such as the New York Stock Exchange, the American Stock Exchange and the National Association of Securities Dealers Automated Quotation. The price of a share of stock is determined by what sellers are willing to accept and what purchasers are willing to pay. Thus, the price constantly changes as market conditions change.
Determine the ticker symbol for the stock in which you are interested. There are numerous websites that provide the ticker symbol when you type the name of the company into a web form.
Enter the ticker symbol into a website that offers stock quotes. The quote that the website returns is the price of one share of that stock as of that moment unless a time delay is specified.
Multiply the price of one share by the number of shares you own, and the result is the worth of your position in that stock.