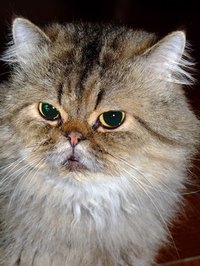 According to The Cat Fancier's Association (see references), the Exotic Shorthaired cat is an ideal breed for Persian cat lovers, because it meets the standards of a Persian in every way except that it has a much shorter fur coat that doesn't shed as much. It also doesn't require the daily grooming and maintenance most Persians must have to keep their coats from getting matted. Exotics are known for having a quiet and peaceful temperament, and according to the CFA, are "The Perfect Pet." However, they can be difficult to acquire. With some time and luck, you can have an Exotic Shorthair cat in your home.
Prepare to spend from $300 to $600, depending on the breeder you purchase your cat from and part of the country. Show- quality animals can cost from $600 to $1,200, according to Pet Place (see references).
Know the fine points of what to look for so you won't spend money on animal that isn't purebred. If you are spending hundreds of dollars on an animal, it should be what are told it is. According to the Australian Cat Federation (see references), an Exotic Shorthair cat should have a round, large head, coloring like that of a Persian, dense, fluffy coat, and moon-shaped eyes (for more points check their list).
Find a reputable breeder. The last thing you want is to drive up to a kitten mill where animals are crowded and mistreated. Check with your local veterinarian, or you can check sites such as the Fanciers Breeder Referral List (see resources) for names of reputable breeders in your area.
Make sure you can see where the kitten has been raised. Is the area clean and uncrowded? Do the animals seem happy and healthy? Ask if you can see both of the parents, or at least the mother.
Rescue an Exotic Shorthair. There are rescue centers who offer animals who are older, can no longer be bred, or may have a medical condition that needs daily attention. If this sounds like something you would like to pursue, you can find lists of pets available for adoption along with other information at pet rescue sites such as Rescue Info Center (see resources).