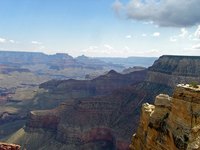 At 277 miles long, 18 miles across and 1 mile deep, the Grand Canyon is one of the most impressive natural sights on Earth. Millions of visitors travel to the canyon every year to take in the sweeping vistas of this geological phenomenon. Choosing what to pack will depend greatly on how you plan to experience the canyon. You may opt for day hikes or decide to backpack and camp below the canyon rim or raft the Colorado River, which runs through the canyon.
Things You'll Need
Backpack
Water bottles
Food
First aid kit
Whistle
Sunscreen
Hat
Backpacking pack
Hiking boots
Socks
Clothing layers
Hiking poles
Sleeping bag
Inflatable or foam sleeping pad
Dry bags
Sandals
Quick drying clothes
Waterproof jacket
Day Hikers
Pack your supplies in a day back or hip pack you can wear comfortably.
Bring 1 quart of water for every hour of hiking, some plain and some with added electrolytes. Bring salty snacks like peanuts that will help replenish salt lost through your sweat.
Include a first aid kit and a whistle if you plan to hike below the canyon's rim. A good first aid kit should include bandages, ace wrap, antiseptic and moleskin, which can help protect minor cuts, twisted ankles and blisters acquired on the trail. Should you decide to venture off trail, a whistle or a signal mirror will help rescuers find you should anything go wrong.
Pack high SPF sunscreen and a hat made out of light-colored fabric, which will absorb less heat from the sun. Make it a full-brim hat to protect your face and the back of your neck.
Backpackers
Use a backpacking pack instead of a day backpack if you plan to hike and camp below the canyon rim. A good pack should have ample room to carry extra supplies and hip straps for extra support.
Wear sturdy hiking boots that will provide the needed support when hiking down steep trails. Ideally, these hiking boots should cover the ankle and be made of a water-resistant material like Gortex.
Pack extra socks. Socks made of wool and synthetic fibers are best because they help wick away sweat and keep feet dry. Cotton socks will trap moisture, which can cause blisters when the wet sock rubs against the skin.
Bring layers of clothes as temperatures can shift by as much as 30 degrees F in a single day at the Grand Canyon. Lightweight synthetic fabrics designed to whisk away sweat are best for summer. Shorts are also a good choice in the summer since the trails are rocky and mostly brush-free. Fleece and wool are good options when hiking in the winter, when long pants will be preferable for warmth.
Take hiking poles, especially in the winter. Hiking poles provide balance when going up and down steep trails regardless of the season. In the winter, snow and ice can form on the trails and hiking poles become essential in order to prevent falls.
Pack weather-appropriate sleeping gear such as a mummy bag with a sub-zero rating if you plan to camp in the winter. During the summer, a sleeping bag is optional if you camp below the rim where temperatures remain warm, though you will want a sleeping bag in the summer if you camp on the rim. Bring a foam or inflatable sleeping pad to help insulate your body from the ground.
River Runners
Contact the concessionaire who will be running your trip if you are river rafting with a private company. Companies typically provide river rafters with all of their supplies, except for personal items. If you plan to go rafting without a company, you will need to bring all your boating equipment in addition to the items below.
Store gear in dry bags. The Colorado River has a lot of rapids and everything in the boat is bound to get wet.
Wear sandals with straps around the back. Sandals will let your feet dry more quickly and a strap around the back will help prevent them from slipping off during when going through rapids.
Pack quick drying clothes and bring at least one extra set. Since you're bound to get wet, having an extra pair of dry clothes is invaluable, especially at night when temperatures drop. In the summer, shorts and swimsuits are suitable for river trips, while in winter, quick drying long pants will be preferable.
Pack a long-sleeve waterproof jacket. Lightweight waterproof material like Gortex is ideal, since it will not only keep you dry but also allow sweat to evaporate.