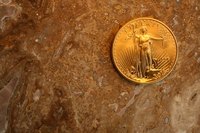 In turbulent economic times, people often turn to tangible assets, like gold, because they don't feel confident in paper assets like stocks, bonds or even bank accounts. You can buy gold as a physical metal, or you can buy shares of gold companies, or funds that invest in gold. If you want to buy the physical metal, the most common way to buy is to invest in jewelry, old gold coins, bullion coins, or gold bars or ingots. In general, the least expensive and most prudent way to buy physical gold is to purchase gold bullion coins.
Learn what a gold bullion coin is. A bullion coin is one that is sold primarily based on the value of the gold it contains. Old gold coins have a numismatic (collector) value that raises the price you pay. Collectors will pay more for numismatic coins because they are rare or have other collector interest. You don't need to pay that if your interest is purely in owning gold. You can purchase gold bullion coins for the price of the gold, plus a small premium.
Determine how many and what size of coins you want to buy. To do this, look in your newspaper or online for the current spot price of gold. The price is given per ounce. Thus, if, for example, the price of gold is currently $1,000 per ounce, and you want to invest $500, you would need to buy ½ ounce of gold coins. You can buy one ½ ounce coin or two ¼ ounce coins or five 1/10 ounce coins. In general, there is a higher premium on lesser weight coins.
Choose what gold bullion coin you want to buy. Many countries issue bullion coins. For example, the United States issues American Eagles. Canada issues Maple Leafs. China offers the Panda. Each has a different look to it and carries a different premium. If your goal is purely to invest in physical gold, choose the least expensive option.
Choose where you would like to buy your coins. Again, assuming they are reputable sources, choose the least expensive source. You can often buy bullion coins directly from the government that issues them. Many banks carry them. Another option is to buy them from a coin dealer. Finally, some brokerage houses sell gold bullion.
Buy your coins and keep them someplace safe, like a bank safe deposit box.