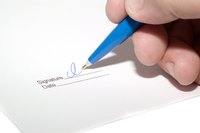 Insurance policies typically have a term with an inception date and an expiration date. Auto insurance usually lasts for six months and home insurance usually for a year. Life insurance can be ongoing or have terms of 10, 20 or 30 years. Health insurance renews yearly. While most policies have an expiration date, you may conclude a policy with a letter to the company stating that you would like it to expire on a certain date. Do not simply stop paying the premiums, as this can have an adverse effect on your credit rating.
Things You'll Need
Current policy or policy number
Fax machine or access to e-mail
Insurance agent contact information
Do not conclude one insurance policy until you have replacement coverage. A quote from another company does not guarantee coverage. Contact the other company to start the coverage on a certain date and obtain proof of insurance.
Call your current agent or company. Tell them the date that you would like to conclude your policy and obtain a fax number or e-mail address so that you may send the cancellation letter. Find out if there are any early cancellation penalties. If there are, avoid these by making the cancellation date the same as the expiration date on the policy.
Write a short cancellation letter. An example is, "To (insurance company), please cancel the (type of insurance policy and policy number) for (your name), effective on 12:01 a.m. on (the date you would like the policy canceled). Please send confirmation of this cancellation to (your e-mail, address or fax number)." Sign and date the letter and then send it.
Obtain confirmation of the cancellation and keep it in a safe place. This step will protect you in the future in case the company makes any mistakes with your policy. Use this confirmation letter if the company continues to charge your account or send additional bills. If you have payments automatically withdrawn from an account, check the account the following month to make sure the payments have stopped.