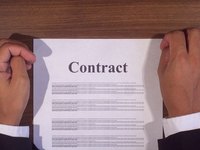 The business world seems to run on contracts. A contract is a written agreement between two parties detailing what each party is to provide to the other. Contracts are legal documents that can be used in court to force one party to live up to its obligations if it does not perform its duties. In a perfect world, contracts always would be executed according to their terms. However, there are times when you may need to terminate a contract before its stated completion date. Here's how.
Things You'll Need
Computer with word processor
Read the contract to determine what, if any, penalties there will be for the contract termination and to see under what grounds the contract can be canceled.
Type the name and address of the company or person you are terminating the contract with. Add any other pertinent information, such as the company representative's name.
Begin the letter with either "To whom it may concern" or the representative's name (i.e., "Dear Mr. X"). Type the date of the letter in the upper left-hand corner of the page.
Type the letter's contents, being short and to the point. Tell the party that you wish to terminate your contract by a specific date. Reference the clause of the contract that allows for a termination and what your obligations are (if any) regarding the termination clause. Give a reason for the termination and your contact information.
Sign and type your name under the letter. Type your company name and address in the signature section.
Keep a copy for your records and place it with the contract. Send a copy to the company using registered mail so that someone has to sign for the letter. This step will ensure that your letter is received.