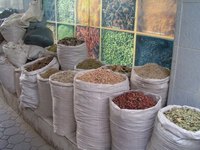 Growing and selling herbs from home can be a rewarding career for anyone with an avid interest in gardening and a knack for business. Although it may sound simple, growing and selling herbs is just as challenging as going into any other business and a business plan should be created before beginning. A business plan should include what you intend to sell, how you will sell it, how you will manufacture it, your marketing plan and your plan for growth. Having this on hand will give you the road map you need to succeed in your new herb business.
Things You'll Need
Herb seeds and plants
Garden space
Craft supplies
Telephone
Computer
Internet access
Business cards
Brochures
Decide what type of herbs and herb products you will sell. You can sell fresh cut or potted herbs at a roadside stand. You can use your herbs in crafts like candles, wreaths, sachets, pillows, blankets or in arrangements with flowers. Dried herbs can be sold in packets as single herbs or in mixes of complementary herbs like a few Italian herbs together or a mix good for making tacos. Dips and sauces can be made as well as other specialty food items.
Select a place to grow your herbs. You may want to group certain herbs together in the same bed. Follow the planting care instructions on your plants or seeds. Mulch your herbs well to keep weeds down and retain moisture. Try to make your layout as friendly to customers as possible, creating pathways and points of interest in your herb garden. If customers enjoy visiting your garden, they will be more likely to return.
Create and sell your products. Visit restaurants, small grocery stores and food co-ops and offer them samples of your herbs. Create your arrangements or wreaths and take them to a local craft fair. Sell your dips or sauces and fresh, potted and dried herbs at a local farmer's market. Bake something up with your herbs in it and give it out as a free sample.
Invite people to your farm or garden to see your herbs and taste some of your goodies or view some of your crafts. Decorate your home or stand with your handiwork. Make it a party or open house and offer up treats. Don't force your business on people. They're at your place, they'll look around and they'll see what you can do.
Create interesting promotional materials and hand them out—with even one stalk of an herb—whenever you can. If you are invited to a party, be sure to bring the hostess something of your own creation.
Design or have someone design a website and blog that gives you a space to talk about your herbs, what you've learned, what you like about them and anything else that comes to mind. Link it to a store you create online or sell your products and plants online on eBay or Etsy, two places where you can sell such items without having to drive a lot of traffic to a site on your own.
Get a Paypal account. Paypal is a great way to send and receive payments on the Internet and they are also able to allow you to take credit card payments whether you're in your house or at the local craft fair. It's always nice to be able to offer credit or debit card payment to customers since they then don't have to worry about how much cash they will have left in their pocket.
Keep your books. Make sure you keep track of your overhead, gardening and travel expenses as well as all of the sales you take in. This will be very important when you fill out your taxes at the end of the year.