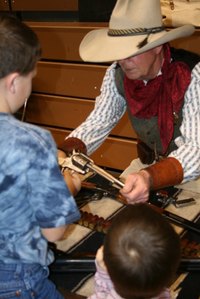 Whether you sell western clothing or western decor, you'll want to stick with the western theme when decorating your own retail shop. While the main focus of your store should be the items that you sell, little extras can make a big difference in setting the scene for the buyer. Pay attention to these details to help you sell more products.
Create a rustic look with wood walls. Using wood panels for your walls will create the look of a cabin. Dark wood can make the space seem claustrophobic, so stick with lighter woods.
Hang antlers on the wall. There's a good chance that your customers enjoy hunting and putting antlers or other hunting trophies on the walls can help to complete your look.
Add swinging doors to the entrance if possible. Depending on the location of your store, swinging doors--the kind you'd find at a western saloon--will add a certain amount of authenticity to the store.
Feature antiques or reproduction items from the "Wild West." For example, you may include an old pot belly stove in the corner or hang old quilts from the walls.
Use western accessories to display your products; you could pile jeans on a carriage or use wooden barrels as the base of a table to put other decorative items.
Change your window display to match the holiday. A good window display could draw more customers in. Dress mannequins in western clothing and put them in positions that seem natural. Incorporate more western items into the image. For example, during Christmas time, you may want to hang western-themed ornaments on the tree.