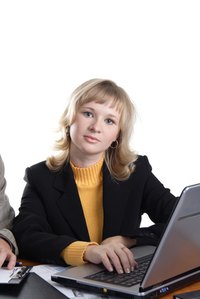 Twitter's vast social network is a beneficial tool for many companies seeking to reach out to technologically aware potential employees. Large companies such as AT&T, McDonald's and FedEx use Twitter to advertise open jobs, and you can follow their lead. The most important thing you will need to make your job-post tweet successful is followers--fellow Twitter users who have signed on to receive your updates. You will also need to post the job on the Internet so you can add a link from your Twitter post to the listing--after all, you can only put 140 characters in a tweet, and it's likely that your job description is longer than that.
Things You'll Need
Go to Twitter.com, click "Sign In" and log in using your user name and password.
Briefly tell your followers about the job, providing the title and location. Provide other information as you feel necessary, such as salary, hours and responsibilities, but try to keep the sentence below 100 characters including spaces. For example, "MyJob.com is seeking a full-time Web Design Supervisor for San Francisco office," which is exactly 80 characters.
Add a link to your Internet posting. Because a full web address would take up too many characters, utilize a URL shortener, such as bit.ly, first. See the Resources section of this article for links to some of these services or use your favorite. Add the shortened link after the main sentence.
Add the hashtag "#jobs" to help Twitter users who are not following you discover your post. The hashtag will associate your post with others that contain the same tag and appear in results for users who search for that hashtag.
Check for any factual or spelling errors and click "Update." Your completed tweet should read something like "MyJob.com is seeking a full-time Web Design Supervisor for San Francisco office. More information: http://bit.ly/a9zUtd #jobs." That tweet would be 126 characters, 14 short of Twitter's limit.
Encourage retweeting. The more people who circulate your post, the better your chances for finding the perfect candidate. Ask co-workers and followers whom you know to "RT" the post on their personal or professional Twitter accounts to reach more potential employees.
Repeat the post. While you do not want to post the same update too many times, repeating the post later or earlier in the day a couple days later may catch followers who missed your original post.